INTERNATIONAL EXPO-MEETING Innov-Aging
Ancona, Italia 21-23 Giugno 2018
Programma Scientifico Preliminare*
Tutte le conferenze saranno disponibili nelle lingue italiano ed inglese.
ORA
EVENTO
SPEAKERS
9:00
Apertura area expo
 9:00
GREETINGS FROM AUTHORITIES

Italian Minister of Health 

Italian Minister of Productive Activities    

Luca Ceriscioli, President of the Marche Region  
Valeria Mancinelli, Mayor of Ancona    

 9:20
INTRODUCTION

 9:40
I SESSION:
ECONOMY, FINANCE AND HEALTH POLICY
 Moderator: Alberto Orioli, Vice Director "Il Sole 24 ore"

9.40

David Coady, IMF-Chief of the Expenditure Policy Division at the Fiscal Affairs Department
Title: Aging trends in Advanced Economies: implications for health care and public pension spending

10.00

Carlo Cottarelli, Bocconi University  – Catholic University Sacro Cuore, Milan
Title: Discussion on Health care and public pension spending

10.20

Letizia Moratti, President UBI Bank Group
Title: Sustainable finance and social innovation

10.40

Mariuccia Rossini, CEO Korian Group , Italy
Title:  Silver Economy: aging as a resource

11.00

Mario Ottiglio, President – Europe "The Global Coalition on Aging"
Title:  Leveraging business contribution to healthy and active aging

 11:20
 COFFEE BREAK
 12:00
ROUND TABLE:
INDUSTRY AND FINANCE

 

Chairman and Moderator: Isidoro Trovato, Head of Economy "Corriere della Sera"

Carlo Bonomi

, President Assolombarda;

Claudio Schiavoni, President Confindustria Marche;
Nunzio Tartaglia, Responsible UBI Bank Group
Mariuccia Rossini, CEO Korian Group 

, Italy

Alberto Capponi

, Representative of Farmindustria

 13:30
LUNCH
 15:00
I VIDEO SESSION:
EVOLVING DESIGN FOR OUR FUTURE SELVES
 

Presentation by Innovative Silver Companies

15:30
ROUND TABLE:
PUBLIC AND PRIVATE STRUCTURES

Introduction:

Lucia Di Furia, 

Marche Region

Title: Tackling frailty in Europe: ADVANTAGE JA

Moderator: Lucia Di Furia

Giovanni Leonardi

, Director Research Department at Italian Minister of Health;

Enrico Brizioli

, CEO KOS Care-Anni Azzurri, Santo Stefano Rehabilitation;

Gianni Genga

, General Director of Italian National Institute of Research on Aging;

Luca Ceriscioli

, 

Presid

ent Marche Region;

Andrea Scocchera, Vice-President COOSS Marche

 17:00
II VIDEO SESSION:
EVOLVING DESIGN FOR OUR FUTURE SELVES  

Presentation by Innovative Silver Companies

 17:30
ROUND TABLE:
SCIENTIFIC SOCIETIES AND LONGEVITY

  

Introduction:  

Roberto Bernabei, 

President Italia Longeva

Moderator: Roberto Bernabei

Francesco Landi

, Elected President SIGG – Italian Society of Gerontology and Geriatrics;

Francesco Petrella

, President of AIUC – Italian Association of Cutaneous Ulcers Onlus;

Silvia Maffei

, Vice-President SIGITE – Italian Society of Gynecology of the Third Age;

Maurizio Massucci

, Member Board of Directors 

HAPPY AGEING – Italian Alliance for Health Aging;
Marco Trabucchi

, President

AIP – Italian Association of Psychogeriatrics

;

Filippo Luca Fimognari,

President SIGOT – Italian Society Geriatrics Hospital and Territory;

Fausto Salaffi, Adviser SIR – Italian Society of Rheumatology
Leandro Provincali, Former President SIN – Italian Society of Neurology

 19.00
 Conclusion
*Il programma è ancora in fase di definizione e potrà  dunque essere soggetto a modifiche
ORA
EVENTO
SPEAKERS
9:00
Apertura area expo
 9:00
I SESSION:
TECHNOLOGICAL SCENARIOS AND THEIR IMPACT ON HEALTH

 

Moderator: Giulia Cimpanelli, Editor Corriere della Sera – Innovazione

9.00   Fabrizio Renzi, Director of Technology and Innovation IBM Italy
Title:  IBM research in Italy and its activities around behavioral applied to health and inclusion

9.20  Arcangelo Merla, Proffesor Department of Neuroscience, Imaging and Clinical Science, G. d'Annunzio University of Chieti-Pescara
Title: Ambient assisted living

9.40   Veronica Jagher, Head of Business Healthcare Development, Microsoft
Title: Microsoft commitment in Health: Research & Development, Partner Ecosystem, Trusted Cloud   Platforms

10.00  Maria Chiara Carrozza, Sant'Anna School of Pisa
Title: Robotics and its applications in everyday life

10.20  Rossella Leidi, Vice General Manager and Chief Wealth and welfare officer UBI BAnk Group
Title: Digital Innovation in Bancassurance to serve over '65

10.40  Sauro Longhi, Rector Polytechnic University of Marche
Title: Ambient Assisted Living Technologies for Healthy Aging

 11:00
 COFFEE BREAK
 11:40
II SESSION: MIND AND BODY
Moderator: Ruggero Corcella, Head Corriere della Sera – Salute

11.40 Aubrey de Grey, Chief Science Officer, Strategies for Engineers Negligible Senescence Research Foundation
Title: Rejuvenation biotechnology: why age may soon cease to mean aging

12.00  Pietro Leo, IBM Italy Chief Scientist

Title:  Automated speech-based neuropsychiatric evaluation

12.20  Ulisses Cortés, Professor and Reasercher Technical University of Catalonia (UPC)

Title: CAREGIVERSPRO-MMD, Artificial Intelligence, Assistive Technologies and Ethics

12.40 Mauro Silvestrini, Professor of Neurology, Polithecnic University of Marche
Title:  Pathological brain aging: risk factors and prevention

 13:00
LUNCH
14:30
III SESSION:
THE RECIPE FOR LONGEVITY
Moderator: Giancarlo Laurenzi, Director Corriere Adriatico

14.30 Makoto Suzuki, Director of Okinawa Research Center for Longevity Science

Title: Pioneer of Blue Zones, Okinawa

14.50 Dilip Jeste, Director, Senior Associate Dean for Healthy Aging and Senior Care; Director, UC San Diego Center for Healthy Aging Estelle and Edgar Levi Chair in Aging

Title: Italy – Cilento Initiative on Aging Outcomes or CIAO: Collaborative Study of Centenarians in Cilento

15.10 Maurizio Battino, Professor in Biochemistry, Polytechnic University of Marche

Title: The role of natural bioactive compaounds on Aging

15.30 Valter Longo, Professor in Gerontology and Biological Science, Director of the USC Longevity Institute

Title: The fasting mimicking diet, illness and longevity

OPEN COFFEE 
 16:00
IV SESSION:
COMMUNICATION, MOBILITY AND INDEPENDENCE
 Moderator: Giulia Cimpanelli, Editor Corriere della Sera – Innovazione

16.00 Ugo Della Croce, Embassy of Italy, Washington DC, Biomedical Sciences – University of Sassari, Italy
Title: Maintaining mobility and preventing falls in the elderly: a US and EU research priority

16.20 Fabrizio Giudici, Software & Devices Operations Director Technogym
Title: Cognitive solutions for wellness

16.40  Hironobu Takagi, Accessibility & Aging, IBM Japan
Title: AI and IoT for Aging Society

17.00  Enrico Brizioli, CEO Kos Group – Anni Azzurri – Santo Stefano Reabilitation
Title: The High tech Nursin Home: from a peripheral terminal to a technological/professional Hub for a personal service network

17.20
 TAKE-HOME MESSAGE AND DISCUSSION
  18:00
CHIUSURA AREA EXPO
ORA
EVENTO
SPEAKERS
Moderator: Barbara Marini, RAI TGR Marche
 9:30
 KEYNOTE SPEECH
 Valter Longo

: The longevity diet

 10:00
 KEYNOTE SPEECH
 Makoto Suzuki

: Utmost figure of extreme human longevity

 10:30
CONVERSATION
Valter Longo e Makoto Suzuki
 12:00
 CERIMONIA PREMIAZIONE VINCITORI 2017 

ECAPITAL – BUSINESS PLAN COMPETITION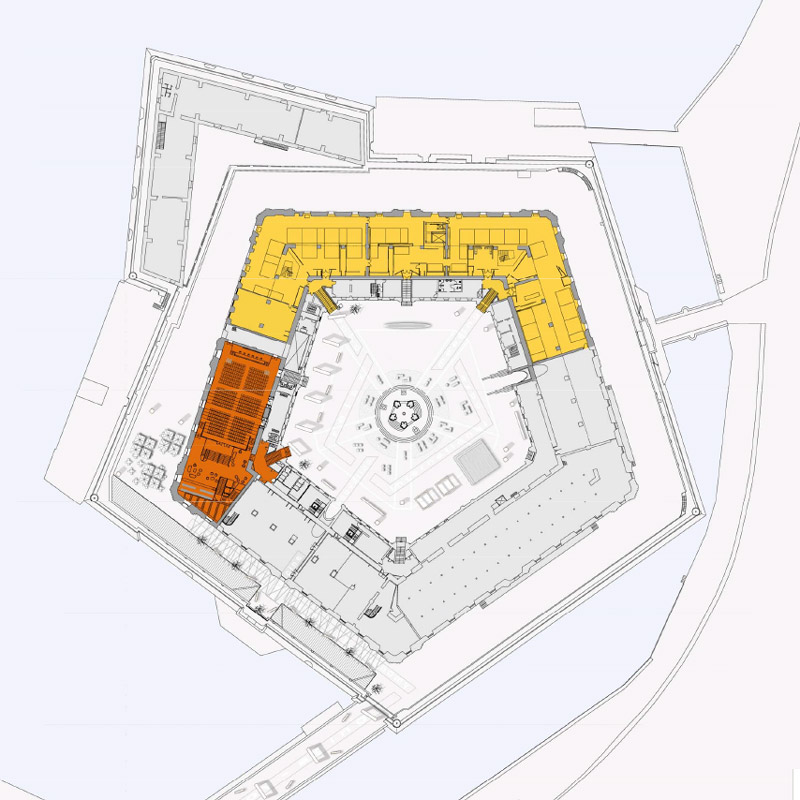 AREA EXPO
Un'area espositiva in grado di contenere circa 40 stand preallestiti in 3 differenti metrature.
Una boutique di selezionate aziende espositrici, tra le più innovative nel settore del Silver Market.
Possibilità di realizzare spazi personalizzati sulla base delle esigenze dell'espositore.
AREA MEETING
Uno splendido auditorium di 450 posti inserito all'interno di una cornice architettonica unica nel suo genere.
Speakers ed Opinion Leaders di rilievo internazionale per 3 giorni sul palco di Innov-Aging.